Donate
Midshires does not charge for its services, and as a registered charity directly bears all the underlying costs of running its operations. Here are some easy ways you can help support Midshires. They will help us to continue to provide our service to the vulnerable missing members of the community in Bedfordshire and Hertfordshire.
Click on the images below to go to the donation service concerned (they all open in a new window).
Support Midshires via BT mydonate
Make a donation by debit or credit card (either a simple one-off, or set up a regular donation) using BT's online donation service. This forwards the full 100% of your donation to our charity without any deduction by the service:-
Donate essential items via Amazon
You can donate specific items we need as listed in our wish-list on the Amazon Wishlist online donation service:-
When Shopping Online
If you already shop online then why not raise valuable extra funds for Midshires by using this fantastic scheme from the Easy Fundraising organisation. Each time you shop online with any participating retailer, the retailer will make a small donation to Midshires Search and Rescue.
Register with them now by clicking on their logo below, then clicking on the "Register as a User" button.
Donate Used Inkjet Cartridges

Old inkjet cartridges (most makes except Epson, and no laser cartridges please) can be sent for refurbishing and refilling. Each one will earn £1 for Midshires funds.
To recycle your inkjet cartridge, click on the Recycle 4 Charity logo below. This takes you to the Recycle 4 Charity's page, with Midshires showing in the selection box (lower down on the page). Just click the "Next" button (below the selection box) to go to the next step, and there fill out the simple form to enable recycling envelopes to be sent out to you.
Once you have the bags, simply put the cartridge(s) in the envelope and pop into the post. There is no cost to you as the envelopes are to a Freepost address. That's all there is to it.
Buy and Sell Items on eBay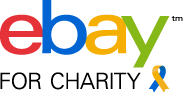 When you buy an item listed on the Midshires eBay for Charity page, the seller will donate a percentage to Midshires. There is no extra cost to you as a buyer!
In a similar way, if you sell an item on eBay, you can choose to donate a percentage to Midshires. Just create a seller's listing in the usual way, looking for the "donate percentage of sale" link. Select Midshires as your chosen charity and select the percentage you wish to donate from the sale.